ADATA Technology, produttore leader di memorie DRAM ad elevate prestazioni e di memorie NAND Flash, quest'oggi presenta nuovi moduli memoria ed elevata densità DDR3 da 8 GB ciascuno, i nuovi moduli memoria superano le aspettative dei clienti che ricercano prestazioni e qualità. Con questo nuovo lancio prodotto ADATA continua la propria tradizione di azienda leader nella produzione di memorie DRAM. I moduli Premier da 8 GB di capacità permettono agli utenti di incrementare le prestazioni in termini di velocità del proprio sistema superando così i limiti del numero di slot memoria a disposizione nei PC. I moduli memoria della serie Premier 1600Mbps DDR3 240-Pin (Unbuffered DIMM) sono moduli dal design standard con tensione di alimentazione di 1.5V, con bandwidth massima sino a 12.8 GB/secondo (PC3 12800). I moduli di memoria sono costruiti utilizzando chip DRAM da 4GB di densità, così da poter operare più velocemente, consumare meno e assicurare il funzionamento a temperature più basse. I moduli sono compatibili con le specifiche JEDEC (Joint Electron Device Engineering Council, JEDEC Solid State Technology Association) e RoHS per design e la produzione, assicurando contemporaneamente compatibilità con tutti i computer che utilizzano lo stesso standard e il minor impatto ecologico possibile. Le memorie ADATA vengono commercializzate con una garanzia illimitata1, fornendo ai clienti la migliori protezione in caso di malfunzionamenti.
Caratteristiche
8GB
240-Pin Unbuffered DIMM / 204-Pin SO-DIMM
Supportano le specifiche JEDEC DDR3-1600 e sono compatibili con lo standard DDR3-1333 e con frequenze inferiori
RoHS
Dispnibilità
I nuovi moduli memoria della serie Premier DDR3 1600 8GB sono commercializzati attraverso la rete dei distributori ufficiali. Per ulteriori informazioni si prega di visitare il sito web ADATA all'indirizzo:
http://www.adata.com.tw/index.php?action=product_feature&cid=6&piid=49&lan=it

[Immagine ad alta risoluzione]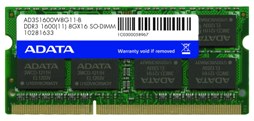 [Immagine ad alta risoluzione]

ADATA Technology, a leading manufacturer of high-performance DRAM modules and NAND Flash application products, today introduced new industry-leading, single piece 8 GB DDR3-1600 high-density memory modules. Known for industry-high standards of quality control and meticulous device engineering, the new modules will meet and exceed expectations of customers who seek performance and quality in DRAM products.
With this launch ADATA is continuing its tradition as an industry leader in DRAM product line-up. These 8 GB Premier Series DDR3-1600 single piece memory modules allow users to boost system performance over the limitations of memory slot availability.
The Premier Series 1600Mbps DDR3 240-Pin (Unbuffered DIMM) are standard pin design modules operating at 1.5 volts, with bandwidth up to 12.8 Gb/second (PC3 12800). The memory modules are made of cutting edge high density 4 Gb DRAM, so they operate faster, consume less power, and hence operate at cooler temperatures. All the modules are in accordance with JEDEC (Joint Electron Device Engineering Council, JEDEC Solid State Technology Association) and RoHS design and production standards, simultaneously ensuring compatibility with all computer systems adopting the same standard, and are ecologically sound products. ADATA Series memory modules come with lifetime warranty and service, providing consumers the best protection.
Product Features
8GB
240-Pin Unbuffered DIMM / 204-Pin SO-DIMM
Complies with JEDEC specifications
Utilizes FBGA (Fine-Pitch Ball Grid Array) package
RoHS compliant
ADATA Premier Series DDR3 1600 8 GB will be sold through designated agents and distributors.





News Source: ADATA Technology Press Release
Links