Dopo aver presentato Frio e Frio OCK, Thermaltake propone il nuovo Frio Advanced ideale per l'overclocking, ma anche per tutti coloro che desiderano una perfetta dissipazione del calore generato dalla propria CPU.

Tecnologia di ultima generazione I comuni CPU cooler utilizzano una saldatura tradizionale che diminuisce la corretta dissipazione del calore tra gli heat-pipes e le alette. Frio Advanced, invece, utilizza innovazioni tecnologiche di assemblaggio che evitano questo inconveniente. Grazie poi ai suoi 5 heat pipes da Ø 6mm a diretto contatto con la CPU ed all'alta densità di alluminio presente nelle alette del nuovo Frio Advanced, la dissipazione del calore viene ulteriormente incrementata. Thermaltake ha, inoltre, utilizzato due ventole da 13cm PWM che regolano automaticamente la loro velocità tra 800~2000 RPM, per ridurre la rumorosità.

Il dissipatore Thermaltake Frio Advanced ha mantenuto alcuni dei punti di forza della serie Frio come ad esempio le due ventole da 13cm, di facile installazione grazie al sistema di montaggio "tool free", dotate di supporti in gomma assorbi vibrazioni per ridurre la rumorosità. Il nuovo colore utilizzato per le pale delle ventole del dissipatore Frio Advanced è il rosso. La compatibilità universale socket è garantita dal pack-plate che supporta le piattaforme Intel e AMD, inclusa la nuova Intel LGA 2011. Il dissipatore supporta fino a 230W ed è perfetto per l'overclocking.

Principali caratteristiche dichiarate dal costruttore:
5 Heat-pipes da Ø6 mm a diretto contatto con la CPU

Due ventole ad alte prestazioni da 13cm per un'ottimale dissipazione del calore Ventole di facile assemblaggio grazie al sistema "tool-free"

Kit Accessori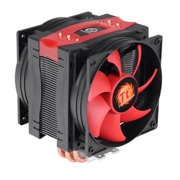 [Immagine ad alta risoluzione]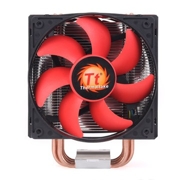 [Immagine ad alta risoluzione]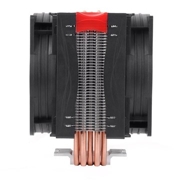 [Immagine ad alta risoluzione]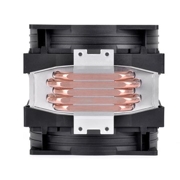 [Immagine ad alta risoluzione]

Thermaltake, the leader and pioneer in PC thermal solutions, a worldwide designer and supplier of high-performance components to the PC gaming hardware market, with "delivering the perfect user experiences" as our mission and carrying the corporate vision of "building Thermaltake Technology into a cultural brand for the enjoyment of entertainment, e-Sports, technology and lifestyle." This October, featuring the Thermaltake Frio Advanced CPU cooler - a CPU cooler that incorporated some of the most up-to-date CPU cooler technologies and persevered the greatnesses from its predecessors of Frio and Frio OCK which not only creating a new phenomenon for overclockers but also set another signature for the Frio Series.
State-Of-The-Art Technology
Unlike the traditional welding between the heat-pipe with the heat-sink which created extra welding points acting as heat collectors on the heat-sink, the Thermaltake Frio Advanced consolidated the most up-to-dated CPU cooler technology using mechanical assembling on the heat-pipe with the heat-sink which provides a precise and direct contact for flawless heat transmission from the CPU to the heat-sink.
Plus, the 5 x Ø6 mm heat-pipes with direct touch to the CPU surface and high density aluminum fins allow larger surface area that not only increased heat conductivity but also grant for a better heat dissipation. Moreover, the Thermaltake has also incorporated the Pulse-width modulation (PWM) technique to control the speed of the Frio Advanced's dual 13cm fans from 800~2000 RPM in favor of a smarter fan noise management for overclockers.
The Thermaltake Frio Advanced CPU cooler has preserved some of the great functionalities from its predecessors of Frio and Frio OCK like the dual 13cm over-clocking of high performance red bladed fans which generate excellent cooling power, tool-less fan installation provides great convenience, vibration-absorbent gaskets decrease noise during operation and all-in-one back-plate design that support the up to latest Intel LGA 2011 and all AMD platforms for overclockers. The Frio Advanced CPU cooler is one true CPU air cooler which support up to 230w that Thermaltake could offer to the overclock enthusiasts.
Heat-pipe Direct Touch Technology:
• 5 x Ø6mm heat-pipes directly touch CPU
• Dual 13cm Over-clocking Fan: Dual high performance fans generate excellent cooling power
• Tool-less fan installation: Tool-less design for fan installation
• All-in-one back-plate design: Universal sockets support up to latest Intel LGA 2011 and all AMD platforms