Con il comunicato stampa di seguito allegato, AMD ha lanciato la scheda grafica per PC desktop denominata AMD Radeon HD 7970, una soluzione equipaggiata con la prima gpu al mondo realizzata con l'ausilio della nuova tecnologia a 28nm. AMD, inoltre, sottolinea che la Radeon HD 7970 è basata sulla "rivoluzionaria" architettura Graphics Core Next Architecture, che introduce nuovi livelli prestazionali sia in ambito gaming che in quello generale.

In accordo al produttore, rispetto alla precedente generazione, la gpu Radeon HD 7970 garantisce un boost delle performance pari a circa il 150%, qualora lo si esprima come rapporto tra le prestazioni e la superficie del die in mm quadrati.

Risulta molto ampio il cluster di nuove tecnologie supportate o introdotte dalla Radeon HD 7970. Citiamo, tra le altre, una rinnovata AMD PowerTune, con la quale la frequenza di clock dell'hardware viene controllata dinamicamente in funzione della potenza di calcolo richiesta, AMD ZeroCore Power, anch'essa finalizzata alla riduzione del consumo di potenza in condizione di IDLE, PCI Express 3.0, AMD Eyefinity di nuova generazione, che permette la gestione simultanea di 5 monitor operanti ciascuno con una risoluzione Video di 2560 x 1600 pixel (ottenendo una risoluzione orizzontale combinata pari a 12800). E inoltre, DisplayPort 1.2, HDMI 1.4a e AMD HD3D per il gaming in 3D e il playback dei filmati su Blu-ray 3D.

La AMD Radeon HD 7970 sarà disponibile sul mercato a partire dal prossimo 9 gennaio; il prezzo di vendita per l'utente finale indicato dal produttore è pari a $549 per le card aderenti al design reference; quelle custom costeranno naturalmente di più.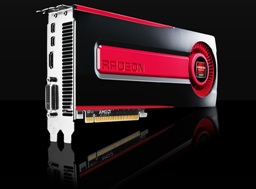 [Immagine ad alta risoluzione]

AMD (NYSE: AMD) today launched the AMD Radeon HD 7970 graphics card for desktop PCs, introducing the world's fastest single GPU graphics card and the only GPU based on 28nm production technology. With the arrival of the AMD Radeon HD 7970, AMD has unleashed its revolutionary new Graphics Core Next Architecture that enables new levels of gaming and compute capabilities – realizing an improvement of over 150% in performance/sq mm over the prior generation. Engineered with support for PCI Express 3.0 and AMD CrossFire technology, the AMD Radeon HD 7970 graphics card arrives prepared for the next level of gaming.
"True to the maxim, 'never settle', AMD is once again aggressively advancing the state of the graphics industry – this time with the arrival of the world's fastest single GPU graphics card, the AMD Radeon HD 7970," said Matt Skynner, corporate vice president and general manager, GPU Division, AMD. "This graphics card represents a revolution in the graphics industry. To put it bluntly, the AMD Radeon HD 7970 changes everything!"
AMD further extends its GPU leadership with the AMD Radeon HD 7970 through AMD App Acceleration, which enables exquisite high-definition video images and exceptional performance improvements for everyday applications. Ground-breaking advancements with AMD Eyefinity technology enable gamers and desktop enthusiasts to connect up to six displays to one graphics card, delivering immersive stereoscopic 3D experiences and astonishing 16k x 16k display resolutions. It's also armed with the latest PCI Express 3.0 standard to enable uncompromised image quality, and is additionally equipped with GDDR5 memory, enabling accelerated GPU performance. Through its intelligent AMD PowerTune and AMD ZeroCore Power technologies, the AMD Radeon HD 7970 enables higher performance levels while maximizing power efficiencies.
"The AMD Radeon HD 7970 is an awesome tool in any gamer's arsenal," said Johan Andersson, Rendering Architect at DICE. "We have worked closely with AMD during the development of the Frostbite 2 game engine to take full advantage of AMD Eyefinity multi-display technology and DirectX 11 for a more realistic, entertaining and visceral gaming experience in Battlefield 3."
Efficient Architecture for Leading DirectX 11 Performance
New architecture for greater performance: AMD has further enhanced its GPU design efficiency through the introduction of the 28nm process technology and Graphics Core Next Architecture, realizing an improvement of over 150% in performance/sq mm over the prior generation.
Refined AMD PowerTune technology: Designed with the most advanced power management features, the AMD Radeon HD 7970 is equipped with the intelligence to convert unused power headroom into extra performance by dynamically controlling clock speeds, allowing gamers advanced performance inside of the power envelope they specify.
AMD ZeroCore Power Technology: Gamers asked, AMD delivered – the AMD ZeroCore Power technology found in the AMD Radeon HD 7970 ensures that no power is wasted when the graphics card is not in use, enabling lower idle power than any other currently available graphics card. With support for AMD CrossFire technology, AMD ZeroCore Power eliminates wasted power, as well as additional heat and noise from extra cards when you are not using them.
PCI Express 3.0: The AMD Radeon HD 7970 comes natively equipped with support for PCI Express 3.0. With world-class performance scaling, enthusiasts' GPU experience is maximized when paired with the latest platforms.
Discrete Digital Multi-Point (DDM) Audio: DDM Audio provides multiple independent audio streams for audio-capable displays via DisplayPort or HDMI signals. DDM Audio delivers unique experiences in cases where multi-display video conferencing, directional audio or multi-room entertainment hubs are being used.
Enhanced Multi-GPU Capabilities: AMD CrossFire technology is the ultimate multi-GPU performance gaming platform. Unlocking game-dominating power, AMD CrossFire technology, coupled with PCI Express 3.0, will allow for unprecedented bandwidth in TriFire and QuadFire configurations.
The Ultimate Immersive Gaming Experience and Innovative AMD Eyefinity 2.0 Technology
Next Generation AMD Eyefinity technology: AMD Eyefinity 2.0 features all-new support for stereo 3D, universal bezel compensation, brand new display configurations and an expanded and more immersive field of view. This allows users with 2560x1600 monitors in an AMD Eyefinity 5x1 landscape configuration to achieve a horizontal resolution of 12,800 pixels, driving more than 20 million pixels of screen real estate. More than 70 game titles have been AMD Eyefinity-validated, while many are AMD Eyefinity-ready, and hundreds more are AMD Eyefinity-compatible.
DisplayPort 1.2 and HDMI 1.4a: With full support for 3GHz HDMI 1.4a and DisplayPort 1.2 HBR2, the AMD Radeon HD 7970 is set to drive next generation displays at up to 4K resolution.
3D entertainment choices with AMD HD3D technology: With the arrival of the latest in stereo 3D technology, AMD continues to deliver an enhanced visual experience on stereo 3D-capable desktops and notebooks powered by AMD Radeon graphics. The AMD Radeon HD 7970 is backed by AMD's open 3D initiative for stereo 3D gaming and Blu-ray 3D movies.
Better Performance through AMD App Acceleration
AMD App Acceleration lets you do more, faster: Enthusiasts will enjoy improved GPGPU performance and new features in many top media, entertainment and everyday productivity applications with AMD App Acceleration.
Extensive support of industry standards: AMD Radeon HD 7970 fully supports DirectCompute and OpenCL technologies, enabling broad application support today and tomorrow.
The AMD Radeon HD 7970 is available January 9, 2012 from retailers worldwide, with select models starting at $549 US SEP.





News Source: AMD Press Release
Links