Come ampiamente anticipato, oggi AMD ha annunciato ufficialmente i suoi primi processori per sistemi desktop della gamma FX. Al momento la linea include quattro varianti commercialmente denominate AMD FX-8150, FX-8120, FX-6100 e FX-4100.
Segue un elenco delle principali specifiche dei nuovi chip, che sappiamo essere basati sulla nuova architettura multi-core "Bulldozer" e realizzati con un processo a 32nm (le corrispondenti versioni per server, denominate "Interlagos" e anch'esse Bulldozer-based, sono in arrivo, ndr).
FX-8150: 8 core, clock di 3.6GHz in condizioni di default (3.9GHz in Turbo Core, 4.2GHz in Max Turbo), Prezzo suggerito: $245 (negli U.S.)
FX-8120: 8 core, clock di 3.1GHz in condizioni di default (3.4GHz in Turbo Core, 4.0GHz in Max Turbo), Prezzo suggerito: $205 (negli U.S.)
FX-6100: 6 core, clock di 3.3GHz in condizioni di default (3.6GHz in Turbo Core, 3.9GHz in Max Turbo), Prezzo suggerito: $165 (negli U.S.)
FX-4100: 4 core, clock di 3.6GHz in condizioni di default (3.7GHz in Turbo Core, 3.8GHz in Max Turbo), Prezzo suggerito: $115 (negli U.S.)
I nuovi processori AMD FX costituiscono la piattaforma "Scorpius", orientata al gaming e all'entertainment in HD, unitamente ai chipset AMD 9-series e alle gpu AMD Radeon HD 6000.
L'attuale prodotto flag-ship della gamma AMD FX è naturalmente il processore FX-8150, il quale risulta dotato, tra l'altro, di una cache L2 da 8MB e di una cache L3 da 8MB, mentre il TDP è pari a 125W. Le prime review di tale prodotto, tuttavia, sembrano manifestare risultati in termini di performance non incoraggianti per AMD rispetto a quelli misurati con i più costosi "Sandy Bridge" di Intel in vari ambiti, tra cui il gaming. A questo indirizzo è on line la review di Xbitlabs.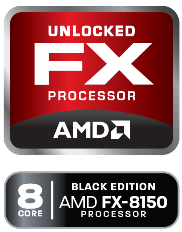 [Immagine ad alta risoluzione]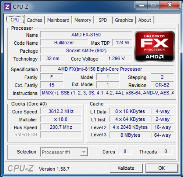 [Immagine ad alta risoluzione]

AMD (NYSE: AMD) today unleashed the AMD FX family of CPUs, delivering a fully unlocked and customizable experience for desktop PC users. The AMD FX series of desktop CPUs includes the first-ever eight-core desktop processor, enabling extreme multi-display gaming, mega-tasking and HD content creation for PC and digital enthusiasts – all for less than $245 (suggested U.S. retail price). This marks the first retail availability of processors that use AMD's new multi-core architecture (codenamed "Bulldozer"), which is included in AMD's upcoming server CPU (codenamed "Interlagos") and the next-generation of AMD Accelerated Processing Units.

"AMD FX CPUs are back with a vengeance, as validated by the recent feat of setting a Guinness World Records title for 'Highest Frequency of a Computer Processor,'" said Chris Cloran, corporate vice president and general manager, Client Group at AMD. "While overclockers will certainly enjoy the frequencies the AMD FX processors can achieve, PC enthusiasts and HD media aficionados will appreciate the remarkable experience that AMD FX processors can provide as part of a balanced, affordable desktop system."

All AMD FX CPUs offer completely unlocked processor clock multipliers for easier overclocking, paving the way for PC enthusiasts to enjoy higher CPU speeds and related performance gains. Additionally, these processors use AMD Turbo Core Technology to dynamically optimize performance across CPU cores enabling maximum performance for intense workloads.

Starting today, the below AMD FX CPUs will be available from global retailers. Additional AMD FX CPUs and systems based on the AMD FX processors will be available for purchase following the initial launch.
FX-8150: Eight cores, 3.6 GHz CPU base (3.9 GHz Turbo Core, 4.2 GHz Max Turbo), $245 suggested retail price (U.S.) FX-8120: Eight cores, 3.1 GHz CPU base (3.4 GHz Turbo Core, 4.0 GHz Max Turbo), $205 suggested retail price (U.S.) FX-6100: Six cores, 3.3 GHz CPU base (3.6 GHz Turbo Core, 3.9 GHz Max Turbo), $165 suggested retail price (U.S.) FX-4100: Four cores, 3.6 GHz CPU base (3.7 GHz Turbo Core, 3.8 GHz Max Turbo), $115 suggested retail price (U.S.)
Without spending a small fortune, users can combine an AMD FX CPU with an AMD 9-series chipset motherboard and AMD Radeon HD 6000 series graphics cards to create the AMD "Scorpius" platform for an astounding gaming and HD entertainment experience. As part of the "Scorpius" platform, AMD FX CPUs also support AMD CrossFireX technology, which allows the combination of multiple graphics cards in a PC for stunning visual experiences, and AMD Eyefinity technology support for super resolution on up to six monitors.1 With AMD CatalystControl Center / AMD VISION Engine Control Center, users can get regular updates to help improve system performance and stability, and to add new software enhancements.



News Source: AMD Press Release
Links