AMD ha lanciato ufficialmente sul mercato la sua prima APU (Accelerated Processing Unit) triple-core: il chip, appartenente alla nuova linea A-Series (aka "Llano"), Ŕ siglato A6-3500 ed Ŕ dotato elettricamente di una interfaccia di tipo socket FM1.

Oltre ai tre core x86-64, ciascuno dei quali opera a 2.10GHz in condizioni di default e fino a 2.40GHz in modalitÓ Turbo Core, la APU A6-3500 include una sezione grafica (Radeon HD 6530D @ 443Mhz) che pu˛ vantare 320 stream processor (o graphics core), il supporto delle API DirectX 11 e ottime prestazioni con il playback in HD, garantite anche dalla compatibilitÓ con HDMI 1.4a.

La A6-3500 integra inoltre 3MB di cache L2 (ogni core lavora con 1MB di tale memoria in maniera dedicata, ndr) e un memory controller compatibile con le RAM di tipo DDR3-1866MHz; il TDP dichiarato dal costruttore Ŕ invece pari a 65W.

Il prezzo della APU A6-3500 Ŕ pari a $95 qualora si consideri il bundle in versione retail, che include un cooler certificato, oppure a $89 in stock da 1000 pezzi.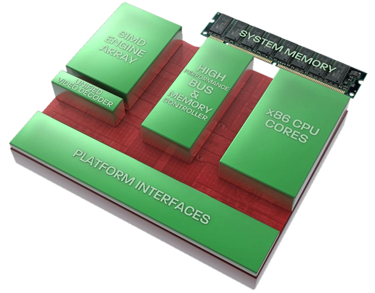 AMD) today announced availability of the AMD A-Series Accelerated Processing Unit (APU) A6-3500 desktop processor, extending the array of APU products and price points for consumers who want PCs with brilliant HD graphics, supercomputer-like performance, and incredibly fast application speeds.

The AMD A6-3500 desktop APU combines three x86 CPU cores with more than 300 Radeon cores, enabling powerful DirectX 11-capable discrete-level graphics and dedicated HD video processing on a single chip. When paired with select AMD Radeon HD 6000 Series graphics cards, AMD A6-3500 desktop APU customers can achieve up to twice the graphic performance of competitive offerings.

In addition to leading-edge graphics and competitive compute power, the AMD A6-3500 APU delivers:
AMD Turbo Core Technology to optimize performance across both CPU and GPU cores enabling maximum performance for intense workloads and incredible energy efficiency during basic, everyday tasks.
AMD Steady Video for instant removal of shakes and jitters when rewatching video, so content looks steady and smooth.
DDR3 1333 support to enhance memory bandwidth for faster performance and improved video playback.
HDMI 1.4a connections to enable 3D pictures and home video on 3Dcapable TVs and displays.
AMD VISION Engine Software to provide users with regular updates to help improve system performance and stability, and can add new software enhancements.




News Source: AMD Press Release
Links